More about the Walnut Internal Doors Collection
Interior walnut doors have grown in popularity, particularly in those homes with a contemporary feel, and here at Vivid Doors, we have an impressive collection of pre finished walnut doors to choose from.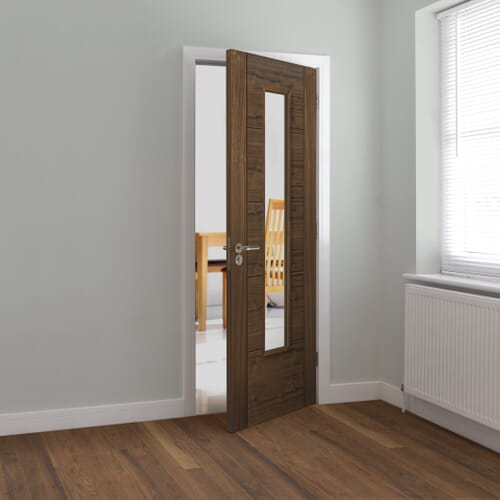 Why Pick A Walnut Interior Door From Vivid
If you want to build a warm and inviting atmosphere in your home, then then a walnut door will definitely help. The distinct natural markings of the rich wood grain will bring a warm, cosy cabin vibe to any room, while the dark, drama of the colour could easily suit a contemporary home with a modern, minimalist design scheme.
Picking your walnut internal door from Vivid means you won't just get a door that looks amazing and sits perfectly in your home. It means your door will be of the highest quality too.
Prefinished Walnut Doors
All our internal walnut doors are prefinished as standard. This means they are ready to hang as soon as they are delivered, helping you keep to schedule without having the hassle of tweaking or finishing your door once it is already hung.
These fully finished doors will also last for decades without showing heavy wear or absorbing any moisture that could swell or warp them.
Our range of doors are supplied pre-finished but without hardware. We understand that many of our customers have already chosen the hardware that they would like to use throughout their home, creating a consistent appearance across your house. By not supplying hardware, we are able to keep the costs as affordable as possible for you.
Engineered Cores
All our internal walnut doors feature an engineered timber core to help make them as thermally and sound efficient as possible.
For a little extra cost, a solid core door will provide maximum efficiency, giving your door a high-quality, heavyweight feel without the hefty price tag of solid wood.
The Right Size for Your Needs
We stock both metric and imperial thickness walnut internal door styles in a large range of sizes, making it easy for you to find the perfect door for your project.
And if you're doorway seems particularly awkward, every walnut internal door we stock features a solid timber lipping so you can trim it down to fit a smaller frame.
Walnut Internal Doors In Styles To Suit Your Home
Walnut interior doors are becoming increasingly popular among homeowners whether they are looking to create a cool, contemporary feel or a warm and inviting atmosphere.
Walnut Flush Internal Doors
If you're looking for a simplistically styled door to add a sleek contemporary vibe to your home, then a flush door could be your perfect choice. Their smooth surfaces and minimal stylings make them perfect for modern homes that don't need fuss.
Walnut Panel Doors
Our panel doors are available in a range of interesting designs to suit any interior. If you're looking to build an elegant, period-style for your home, our walnut panel doors come in authentic Victorian, Edwardian and 30's style configurations to match lovingly restored period properties.
Glazed Walnut Doors
Our glazed walnut doors come in a number of modern, striking designs with long, thin windows or multi-paned designs that will let natural light flood into your living room or kitchen, making them feel larger, brighter and more welcoming.
Free Delivery as Standard
We offer free delivery (over £750) as standard, and all of our prices include VAT. Our standard sized doors are available for delivery within 3-7 working days. If you need help finding a door that is much larger or smaller than standard, call us to learn about our selection of bespoke offerings, or take a look at our French door sets.
Contact Us for Expert Advice
If you would like more information about the doors that we stock, advice about whether or not you need fire doors, or help to choose the correct size, then please do not hesitate to get in touch with us via email, or give us a call. Our team of experts would be happy to help you find the perfect doors to match your interior design.
If you are looking for something a little different that will make your interior design stand out, interior walnut doors are a logical choice. These stylish doors have a satisfying, heavy feel to them and they are sure to leave a lasting impression on your visitors.