Vivid Doors recognises the distinctiveness of each customer, understanding that individual requirements, specifications, and tastes can vary widely. To cater to this diverse spectrum of needs, Deanta presents its latest Architectural range.
This expansive collection provides an abundance of internal door options, complemented by a vast selection of aperture choices and glazing types. It's an embodiment of flexibility, enabling customers to craft their quintessential door tailored to their vision.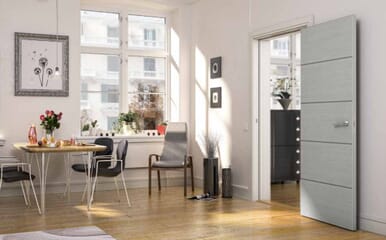 Flush Doors
Clean, simple designs in oak, walnut, light grey ash, dark grey ash, and dual ash veneers. Offered in a range of sizes.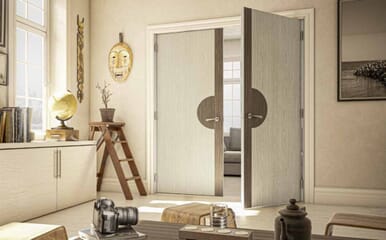 Contemporary Doors
Distinctive modern styles like the Anton, Arata, Mies, and Renzo collections. Creative lines, grooves, and angles.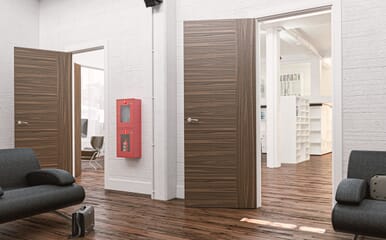 Feature Doors
Unique inset panel and door designs that make a bold statement. Customisable with choice of veneers.
Fire Door Excellence: Safety, Acoustics, and Regulation Compliance
In the realm of safety and functionality, fire doors serve as a paramount addition to any architectural endeavour, and Deanta's range embodies this commitment to excellence. Their fire doors, available in FD30 and FD60 ratings, provide resistance against fire for 30 and 60 minutes respectively, acting as critical barriers to safeguard both property and lives during emergencies.
Further enhancing their credibility, Deanta has fostered a strategic partnership with industry trailblazers, Lorient. Through this collaboration, Deanta's fire doors have been meticulously acoustically tested, achieving sound insulation up to 33dB courtesy of Lorient's advanced acoustic sealing systems. Beyond their formidable safety and soundproofing features, these doors adhere stringently to regulatory benchmarks. They seamlessly comply with Part E of the Building Regulations when outfitted with the requisite seals, including a vital drop seal at the threshold.
Opting for Deanta's fire doors is a testament to prioritising unmatched safety, sound insulation, and stringent regulatory compliance.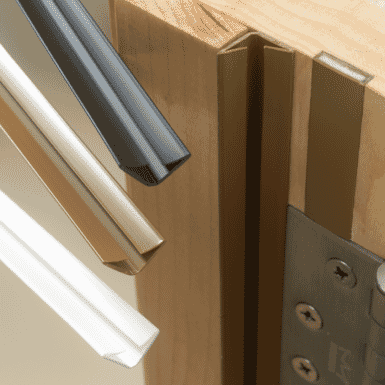 BATWING®
Features unique curved fins made from flexible elastometric material for performance and durability. Installed at the head and jambs of single and double leaf doors.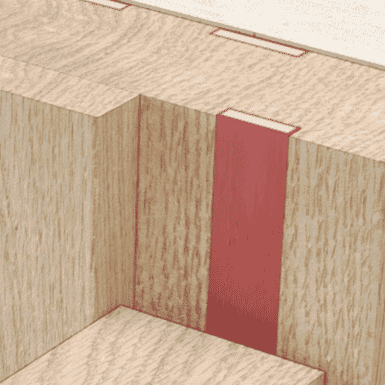 LP1504 Fire Seal
Lorient intumescent fire door seals offer the ultimate in fire protection where no smoke sealing is required - or with an additional smoke and acoustic seal such as Batwing®.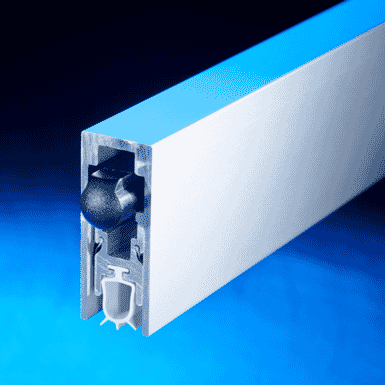 LAS8001 SI
Aluminium based drop seal for acoustic, smoke and energy containment. Features a high efficiency mechanism which lifts the seal clear of the floor as soon as the door is opened. Fitted onto single swing doors, for use on both right and left-handed doors.
Precision Craftsmenship & Premium Performance
What truly sets Deanta apart is their dedication to precision and craftsmanship. All custom door modifications, including aperture cutting and glass fitting, are undertaken at their specialist centre located in Cambridgeshire. Such in-house expertise not only guarantees a product that echoes Deanta's renowned quality but also significantly reduces the glazing lead time. This ensures that project timelines are consistently met and customers receive a door that resonates with the exceptional standard synonymous with the Deanta name.
Ensuring Longevity and Optimal Performance of Your Deanta Door: A Guide to Door Care
Timber is an organic material, and its characteristics can evolve in response to varying humidity levels and temperature changes. As a result, individual doors might exhibit slight variations in grain patterns and colour. Over time and with age, these subtle differences tend to become less pronounced, leading to a more uniform appearance.
Immediate Actions upon Delivery:
Examination: Upon receipt, it's imperative to inspect your Deanta door thoroughly before removing it from its packaging. Any claims regarding defects or issues should be raised prior to installation, as claims won't be entertained once the door is unboxed.
Craftsmanship Considerations: As each Deanta door is meticulously hand-assembled, there may be minor differences in aperture sizes. For optimal results, employing a qualified glass fitter is advised.
Storage Protocols: Ensure the door is stored horizontally on a clean, dry, flat, and level surface.
Acclimatisation: Before installation, doors should remain within the property for at least a week. Gradually increasing the ambient temperature during this period will aid the acclimatisation process.
Modifications and Alterations:
Immediate Varnishing: If there's a need to alter, cut, or plane the door, it should be varnished immediately thereafter. This step is crucial in averting moisture absorption that can lead to undesirable outcomes like warping or splitting.
Trimming Guidance: While making adjustments, ensure you don't trim more than 3mm off both the width and height. This should be done equally across all edges.
Prefinished Door Maintenance: Any modifications to a prefinished door, including the sites of ironmongery and hinge cut-outs, necessitate three coats of internal wood finish.
Installation Best Practices:
Environment Check: Avoid installing doors in freshly plastered properties. It's best to introduce the doors to a site only after all wet works have been completed.
Hinge Recommendations: Using three sets of hinges per door will ensure a secure and long-lasting fit.
Sealing Products: When sealing doors against moisture, always opt for products specifically designed for interior joinery doors.