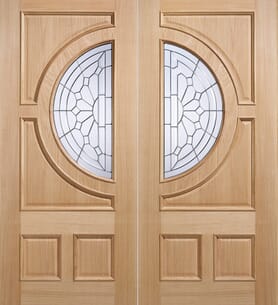 Looking for elaborate, grand entrance door pair, or simply want an elegant, stylish main entrance, first impressions really do count and our range of door pairs manufactured in natural oak, or hardwood give you a selection of premium quality, double glazed products which give you good thermal efficiency, and stunning looks. These unfinished wooden external doors are ideal for those renovation projects, where you are looking to create a stylish new look to your front entrance doors. Manufactured from engineered materials, and with substantial solid oak or hardwood lippings our range of external doors can be trimmed to meet most requirements.
If you have a large entryway and want to create an elaborate, ballroom-style entrance, or you want to have a grand entrance to your lobby, take a look at our selection of stunning double glazed door pairs. You only get one chance to make a first impression with your home, and these double glazed natural oak or hardwood doors will help you to do that. These premium quality, elegant and stylish doors offer the best in both functionality and appearance.
Beautiful Door Pairs for Your Home
Our external door pairs are supplied unfinished but ready to hang, with beautiful glazing and symmetrical patterns that come together to create a stunning double door. Whether you are looking to create something stylish and new with bold and bright stain, or something more sedate or elegant, our selection gives you the flexibility to achieve exactly the look that you want.
These doors are manufactured from engineered materials, and have substantial hardwood or solid oak lippings on both sides so that you can trim them down to fit even the most difficult and unusually sized openings. Take care when trimming the doors, to ensure that they fit snugly in the opening. It is important that external doors fit perfectly, to ensure that they offer optimal insulation as well as security.
Find the Perfect Size
If you have a particularly large opening to work with, then you may want to choose one of the pairs that comes with sidelights on each side. We can make a lot of the sets in various configurations (even offering a sidelight on just one side if required). There is a longer lead time on bespoke sets, but we are confident that we will be able to help you find something to fit even the most unusual of projects.
These door pairs are 44mm thick and offered in most standard sizes. They come with toughened double glazed glass for security and good thermal performance.
If you are working on a new build then you may need to purchase doors that are compliant with Part L of the Building Regulations. Many of the doors that we stock meet those requirements. Call our sales team for advice if you are not sure what you will need. We are always happy to discuss individual requirements, and may have suggestions for sets or modifications that will suit your project, whether it is a new build, period property or conversion.
Fast and Free Delivery
We offer free delivery as standard on all of our doors, and we keep most standard sizes in stock so we can ship them to you quickly. All of our prices include VAT, and we take pride in stocking only the highest quality doors from the most reputable of manufacturers.
Be sure to read our instructions regarding the Care and Maintenance of External Doors before you treat, stain and fit any of our doors. With proper care, you can expect these doors to last for many years and we offer detailed guidance so that you can get the most out of the doors that we sell.