White Glazed Roomfold Deluxe ( 4 x 686mm doors )
White Glazed Roomfold Deluxe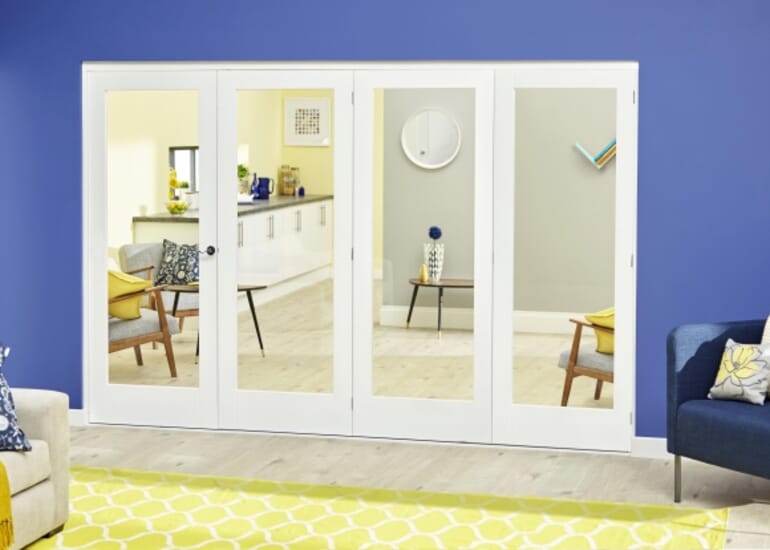 Available in
3-5 Working Days
4 door - 2820mm x 2078mm
£839.00 (Ex. VAT: £699.17)
Availability: In stock 200
Frame Size (WxH)
2820 x 2078mm
(111" x 81 3/4")
Structural Opening (WxH)
2830 x 2084mm
(111 3/8" x 82")
Door Leaf Size (WxH)
10 Year Manufacturing Guarantee
on all doors
Solid White Primed
Primed
35mm Thick
This is one of our most popular white glazed internal folding doors, with shaker glazed white primed solid core internal doors, this clear glazed door allows maximum light to flow through between rooms. This set size is 2820mm (111 inches) wide x 2078mm high (81. 75 inches) is supplied with 4 No 78 x 27" doors, and has a daily access door which can be used on its own. The White Glazed Roomfold Deluxe ( 4 x 610mm doors ) product comes complete with white primed frame including threshold, head track, base track, engineered solid core white primed pre glazed doors and all pivots, running gear, stainless steel hinges and hinge handles, and brushed stainless steel drop bolts. Once installed, the 20mm threshold allows your floor covering to be installed up to the edge, almost flush with the threshold, ensuring you don't have any trip hazards. We recommend you use a competent joiner for the installation, and all doors and frame should be decorated before installation in accordance with our decorating recommendations. These glazed white internal doors can be painted to suit your individual taste, and should be stored flat on bearers, in a cool, dry environment before installation.
Material
Solid White Primed
Glazing
Single Toughened Glass
10 Year Manufacturing Guarantee
Yes
Thickness
35mm
Model
4 door - 2820mm x 2078mm
Hardware
Stainless Steel hinges, brushed chrome drop bolts
Finish
Primed
Outer Frame Size (WxH)
2820x2078mm
Brickwork Opening (WxH)
2830x2084mm
Door Leaf Size (WxH)
686x1981mm
Code
RDWP1LC-31-686
Sorry, there are no instructions for White Glazed Roomfold Deluxe ( 4 x 686mm doors ). If you need help or assistance, please call us on 01246 380283 and we'll be happy to help you with your query.